Parking Instructions
Please print the

Parking Instructions
Main Goals of the Conference?
• Learn. How to Build a Culture of Innovation for rapid growth.

• Discover. Top early stage companies in Detroit creating success through innovation.

• Connect. Mingle with other top CEOs, Founders, VCs, Angels, and Mentors.


Will Special Diet Meals be Available?
Yes, vegetarian/vegan meals will be available upon request (identify yourself to the hotel staff once seated).
Are the Facilities ADA Compliant?
Yes, there is handicapped access to all main entrances and conference areas. We can also make special accommodations if needed (please contact the hotel to coordinate).
May I cancel?
Yes, you may cancel, if more than 30 days before event, we will refund 100% of your total, if less than 30 days before event, we will refund 50% of your total as we already submitted food/catering guarantees. Please see the cancellation link in the automatic reservation confirmation sent to you when you registered.
May I Be a Sponsor or Speak?
Potentially yes. If you are a startup or early stage company and wish to compete on innovation see how to Apply (established corporate innovation teams should use the same process). If your product or service adds value to the participants please see the Sponsorship page for more info. If you have a special story or topic on innovation that would inspire the audience please send it to Shelly@DetroitVentureSummit.org for consideration
Registration Terms?
Our full attendee registration terms are located  Here
About the Planning Organization.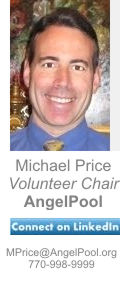 AngelPool.org is the association of angel groups and accelerators. We have partnered with key Detroit area universities and organizations like us who are focused on local economic growth. Presenting companies are able to pitch at no charge as we are all volunteers focused on helping startups and driving innovation. We especially wish to thank the University of Michigan this year, they are graciously hosting the site to help and benefit the entire startup community. We also wish to thank the Executive Summits which operate a large number of best practices conferences and groups that bring together thought leaders globally for this site, registration processing and administration.
Funded since presenting via AngelPool:
• $2.3 Billion Raised.
• 3,100 New Jobs Created.
• 48 Exits (specifics below).

Detailed Funding Stats
We take
No
credit and are very glad to have helped with intros. All credit goes to the angels, groups & venture funds that leverage AngelPool and most of all the brave and bold founders who presented).
Purpose of the Conference.
Detroit is a robust metro but for various reasons receives a disproportionately lower percentage of early stage investments relative to its large economic size within the US. These early stage investments are critical to the creation of new jobs and vibrancy. A number of volunteer Angels and VCs decided via AngelPool.org to hold these early stage venture summits in the top 10 metro cities most "underfunded" relative to their significant economic sizes and Detroit was among the key metros chosen. The hope is that this spotlight event will be additive to existing local events and provide value in the form of awareness, PR, mentors, and early stage funding to the metro area. Again we wish to thank the key local universities, chambers, and other related organizations like the ACG whom are dedicated to economic growth and do most of the heavy lifting to benefit their key communities each day including the sponsorship of this event.